How to lower the seat height of your Africa Twin?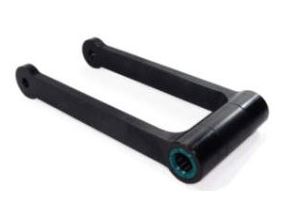 Honda CRF1000 is clearly the top tier offroad trail motorcycle but its high seat height can be a real problem pour short riders...
But there are solutions to solve this... The first way is to install the Honda low seat for Africa Twin standard as official accessory in order to lower the seat height of 30mm. For Adventure sports version, you can go for black and grey low seat or black and blue color.
Installing this lower seat is the easiest way and it doesn't affect the general balance of the motorcycle.
And if going for a lower seat is still too high ?
To make it even lower, you need to tweak your suspensions
On rear, there are 2 options:
Change your rear damper for a shorter one like french manufacturer EMC makes.
Install the lowering seat height kit(Only available for standard Africa Twin). It's a shorter rear suspension link which comes in place of the OEM one.
At front, it's only needed to lower the positition of your fork tubes by about 2 cm.
To do this, you will need to place a car type jack to support the weight of your CRF1000L on the front (under the engine) and then loosen the T fork screws. Then you will lower the jack slightly so that the tubes sink into the T. Be careful not to go down too low because in this case, the front fender could come to touch during big compressions.
Can I lower my Africa Twin myself ?
In the vast majority of cases, the answer is yes, you can operate the lowering of your Africa Twin by yourself from your garage. As you can see, the prerequisites are above all hardware (lowering kit, kickstand (or material for cutting / welding), tools for loosening screws and bolts, self jack and/or help for complete handling.
The rest does not enter the field of advanced mechanics but requires patience and meticulousness to obtain a satisfactory result in terms of ergonomics and safety. Do not hesitate to contact a professional if the task seems too uncertain.